Andrew and Joe Aquilante after Andrew qualified for the pole position for the GRAND-AM GS race at Homestead-Miami Speedway in 2009
Even a casual look at those in the paddock, service areas, and pits who support the Subaru Motorsports teams' drivers and co-drivers reveals the extent to which families are involved. Fathers, sons, grandfathers, brothers, and spouses all play important roles in the road racing and rally teams.
Perhaps you've heard that "... racing is in the blood ..." of someone involved in the sport, whether he or she be a driver, team owner, car builder, technician, or working at racing in some other way. Subaru Motorsports teams both have family members who put that saying into a literal context.
Members of two families with strong ties to different forms of racing and performance vehicles figure prominently in the Subaru Road Racing Team (SRRT). First, the Aquilante family: Team owner Joe Aquilante of Subaru partner Phoenix Performance fields SRRT. His son, Andrew, is one of the drivers of the #35 WRX STI Sedan in the GRAND-AM Continental Tire Sports Car Challenge series. Joe's wife, Jeanne, is the comptroller for Phoenix Performance, and she often can be found around the paddock and pits on race weekends.
SRRT driver Bret Spaude is far from the first member of his family to don a racing helmet. Along with Bret, his grandfather, Bil, and father, Tod, are karting champions. Bil usually works along with SRRT during the Continental Tire series races.
Members of another family actively take part in Subaru Rally Team USA (SRT USA). Subaru Partner Vermont SportsCar builds and campaigns the rally and rallycross cars for SRT USA. It's headed by team owner Lance Smith. Taking part in the family business are brothers Colin and WeeGee as well as Lance's wife, Carolyn Bosley.
In addition, one of the drivers – David Higgins – hails from a racing family that runs a rally school in Wales.
Racing is in the blood at Subaru.
Top right: Andrew and Joe Aquilante after a win in quarter midgets. Bottom right: Joe and Andrew at Sebring in 1999.
Above: Andrew Aquilante's Subaru #35 WRX STI race car in 2011.
Joe, Jeanne, and Andrew Aquilante
Drive Performance talked with Joe Aquilante about his family, Phoenix Performance, and racing: "It's a family business," he said. "It's like the old family farm. You have to lean on it and stay with it."
And you have to have a passion for it. For Joe, that goes back to high school. "I really got started in 1970 when, as a graduation present from high school, my brother took me to Watkins Glen to see the six-hour endurance race that featured the John Wyer Porsches and Ferraris. There was a Can-Am race there at the same time, and I got hooked.
"My brother and I talked about doing this for a long time. All we wanted to do was race. I started by going to races with him and being his crew guy." Joe and his brother began road racing and club racing in the 1970s – Joe receiving his Sports Car Club of America (SCCA) racing license in 1978 – and that's where Joe stayed most of his racing career. That led to several regional championships in the SCCA and invitations to more than 10 SCCA Runoffs®. "I won 52 races at Pocono – that was always my favorite track," said Joe.
Top: Andrew Aquilante conferring with Don Knowles and Kristian Skavnes, studying driver telemetry. Bottom left: Joe Aquilante takes an active role in the pits on race day. Bottom right: Joe and Jeanne Aquilante at Lime Rock in 2011.
Along the way, Joe Aquilante became a CPA, met his wife, Jeanne (also an accountant), and had a son. "There's a picture on my wall of Andrew at 1-and-a-half years old rolling a tire into the trailer at Sebring, Florida. He used to come with us to all the races, and he usually fell asleep. But he was inoculated with the racing bug."
Joe continued: "Andrew started racing quarter midgets when he was 7 or 8. I used to take him to a local dirt track on Wednesday nights. His first win was his third or fourth race out."
Andrew raced quarter midgets until he outgrew them (too tall) at approximately age 12. Then he focused on working on Joe's race crews, but vowed to return to driving when he got his driver's license. According to Joe, "He wanted to race real cars when he turned 16. I said, 'OK. All you have to do is get good grades in school, take out the trash, and don't piss off your mother.' As soon as he got his driver's permit, I took him to the Bertil Roos Racing School, where he went from a beginner's safety school right into a competition school."
Andrew attended an SCCA driver school and got his license, then started racing Corvettes. Today, according to Joe, Andrew races anything that comes along. "He wants to be a professional race driver.
"Andrew's first GRAND-AM race was 2007 at Lime Rock, racing a BMW. Never having been in the car, he missed qualifying for the pole by something like a 10th of a second. Then he started the race, and he was racing against Kristian [Skavnes] and Chuck [Hemmingson – Subaru team drivers at the time], and he was leading the race. [Subaru Motorsports Marketing Manager] James [Han] turned to me and said, 'How come he isn't driving for us?'"
In 2008, Andrew shared driving chores in SRRT's #141 Subaru Legacy GT 2.5 GT spec.B. Joe Aquilante said, "Andrew's co-driver couldn't make all the races, so we brought Don Knowles in to substitute. Don was Andrew's teacher at the driving school."
The Aquilante Family at Work and Play
In their roles at Phoenix Performance, Joe runs the company, Jeanne serves as comptroller (office manager, accountant, bookkeeper, etc.), and Andrew works in the shop. Along with building and maintaining the SRRT #35 WRX STI Sedan, Phoenix Performance builds other race cars and modifies performance street cars. Over the years, they've put together approximately 180 race cars for clients.
(left to right) Don Knowles, Bil Spaude, and Andrew Aquilante in conference.
Joe described Jeanne's work at the shop: "Jeanne organizes all the trucks, keeps all the guys paid, pays all the bills, sends out the invoices. She's an accountant by trade, and we met when we were both working for an accounting company in the 1970s."
Andrew's work in the shop includes building, maintenance, and repair of the SRRT Subaru along with other client vehicles.
On race weekends, what is it like as a parent to watch your son on the track? Joe commented: "It's pretty cool. He's actually a much better driver than I ever was. I think I'm his biggest fan. He's pretty good at what he does on track. I never have to second-guess him.
"The reason is that he's grown up around people like [longtime championship racers] John Heinricy and Don Knowles and Stu Hayner. He's watched these guys win from an early age, and he's watched how they do it. And he's listened to them talk since he was 6, 7, 8 years old. I don't know how much sank in, but, obviously being around them, he's learned how to go fast quickly.
"He has a good sense of the car. He's a very good technician, and he's been trained by the guys here at the shop. He's probably as good as just about anybody in terms of understanding the car and putting things together and taking things apart." Plus, according to Joe, Andrew probably has built seven complete race cars from start to finish.
Through the winter of 2011-2012, we will carry the stories of the other families involved in Subaru Motorsports – the Spaude family in road racing and the Smith and Higgins families in rally.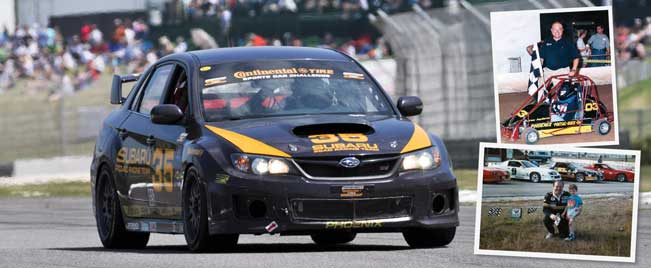 Joe Aquilante, president (610) 482-0141 JFAPhoenix32@aol.com
© Phoenix Performance, LLC
(for best results, set pop-ups & scripting allowed) • website design by Hi-Per Products Web Services